Scratchbuilt chassis gallery
Started by
Cheater
,
Apr 16 2008 12:18 PM
2860 replies to this topic
Posted 19 June 2017 - 11:06 PM
Nice build Charlie, looks very professional,

I hope Jimmy and Chris make some more scratch building parts.
Cheers
Bill Botjer

Faster then, wiser now
---
Posted 21 June 2017 - 09:44 PM
In my ever ending quest to keep up with Tony, I built a new Can-Am chassis. The inspiration for this chassis came from Tony's 18 rail 039 wire chassis that he allowed me to take up to the R4 last March. The 18 rail chassis handles very well, however it is a little loose for the way our Florida tracks are glued. Therefore, I decide to build a similar chassis having 14 rails of 039 wire. And for the first time, I made the side pans out of steel wire. The fighting weight of this car is 101 grams, RTR.
DE38, macman, SlowBeas and 4 others like this
Doc Dougherty
GRRR 2016 GT Coupe and Stock Car Champion and Overall Champion
My Series Spring 2016 4" NASCAR, JK LMP State Champion, and Endurance State Champion
My Series 2015 4" NASCAR, GTP and Endurance State Champion
​GRRR 2015 4 1/2" and F1 Champion
​GRRR 2013 & 2014 Evil Flexi Champion
1968 Cleveland Car Model Series race winner - Tom Thumb Raceway, North Royalton, Ohio
​1968 Hinsdale ARCO Amateur runner-up
1967 Parma Raceway Indy 500 Champion
---
Posted 16 July 2017 - 09:53 AM
Jencar17, MSwiss, Tex and 2 others like this
Jeff Strause
Owner, Strause's Performance Racing (SPR)
Burlington Iowa Kiwanis - President Elect
USSCA 2016 4" NASCAR Champion
USSCA 2016 4 1/2" NASCAR Champion
USSCA 2016 Retro Can-Am Champion
---
Posted 16 July 2017 - 06:10 PM
Looking good Jeff.

---
Posted 02 August 2017 - 09:12 AM
Here is another kit machined in house at HVR by Jim. Pans , bracket and nose are all .032 brass, rails are .055 inner and .062 outer,Swiss 2 deg tongue,HVR fronts and Bartos axle.He is trying a couple new designs so we will see how it goes tonight at our weekly Retro race. 
MSwiss, Tex, Tim Neja and 5 others like this
---
Posted 06 August 2017 - 07:47 PM
Here is a little something to the scratch built gallery.  First up is a reality modified "shelf queen" for a long time friend in North Carolina.  The body was made my Jerry Fascione and the chassis was built to the reality modified specs.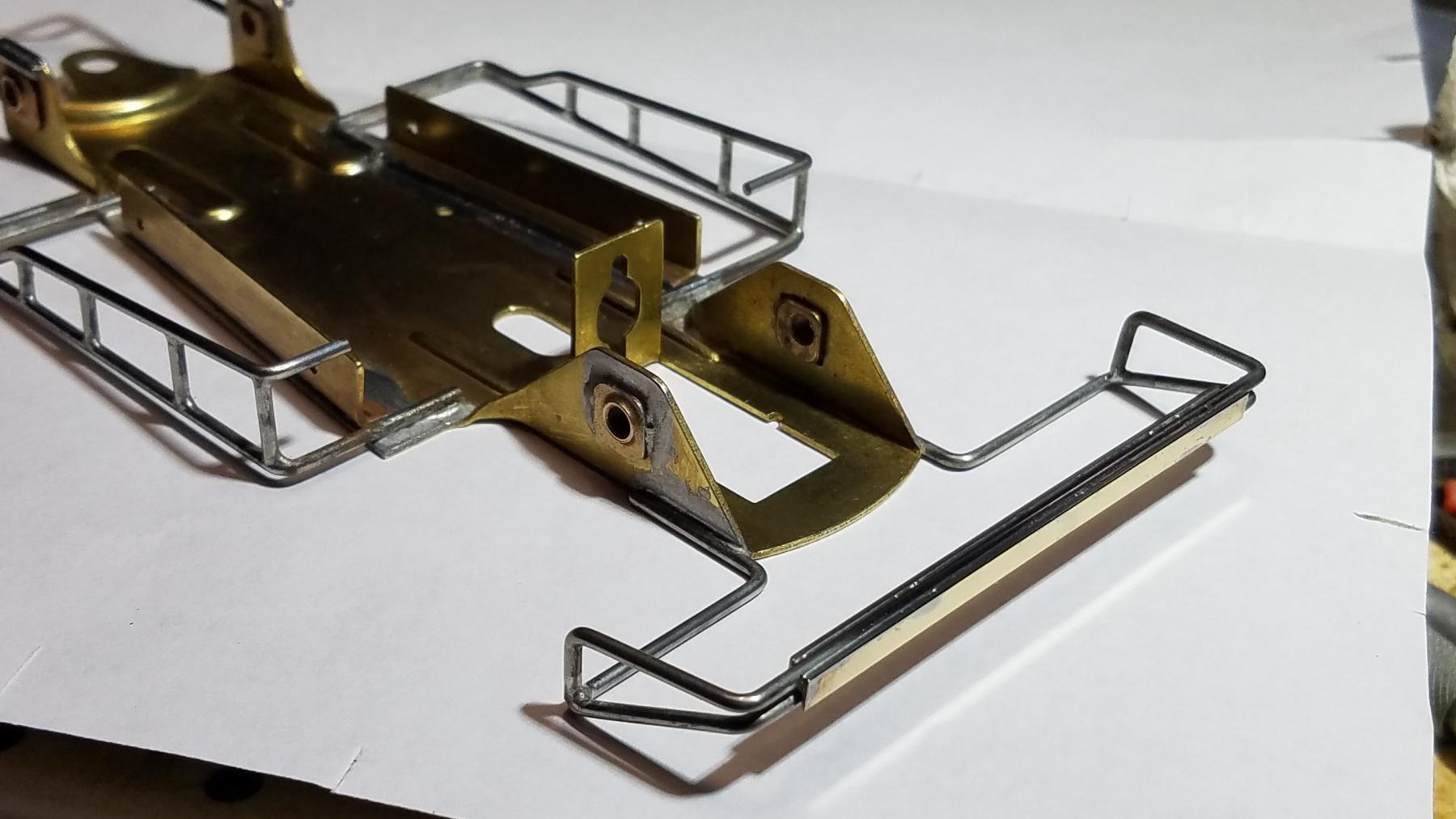 This next one is a new builders class that is being start at Rapid Raceway with a twist on the reality modified chassis rules.  This one has .078 rails with a 4" wheel base and came in at 130 grams with the nerf bars.  This one was built for Jerry Fascione and he added the nerf bars once I completed the chassis.  Usually this class requires 1/8" axles but the new class will have the option of 3/32 and BB fronts.  The pans have a plumber/shaker set up. 
Jencar17, DE38, Tex and 5 others like this
---
Posted 07 August 2017 - 08:26 AM
Dom, how do you keep the "cotter pin" from coming out? Is it kinked?
Richard L. Hofer

Remember, two wrongs don't make a right... but three lefts do! Only you're a block over and a block behind.
---
Posted 07 August 2017 - 06:25 PM
The pin head has just enough twist to hold it tight against the center weight.

Normally I would have used a regular body pin but the way the pans are set up I needed something that could slide under the front pan support.

---
Posted 23 August 2017 - 07:31 PM
Another new car ready for Fasttrackshobbies on Saturday.🤞🏻🤞🏻
3x047 rails with 062 forks, pans are 025 and the hinges are 039 wire in 1/16 square tubing. Rgeo 3/4 rear and the rest is scratchbuilt.
DE38, Tex, macman and 2 others like this
Chris Wendel
Silver Side Down Racing
 
"Failure teaches way more than success. It shows what does not work and what to never do again, again..." 🙊🙈🙉  
---
Posted 24 August 2017 - 07:24 AM
Looking good Chris

---
Posted 24 August 2017 - 09:07 AM
Hey Chris, if you haven;t done so already, I suggest you trim back those pan downstop wires near the front wheels.  Ask me how I know this!  

Half Fast and crazyphysicsteacher like this
"Whatever..."
---
---