This project had stalled. I had planned to make a motor I really didn't want to use because I lacked a critical part.
But, I've come up with a solution and built a motor I want, finally! I've deleted the previous motor proposal post and here goes my motor build.
I want to build a car based on the one Bob Emott built for Howie Ursaner in the Jan. 1969 MRJ Hinsdale race report. Not built as a clone but rather as if I were reading the race report in 1969 and building my own version: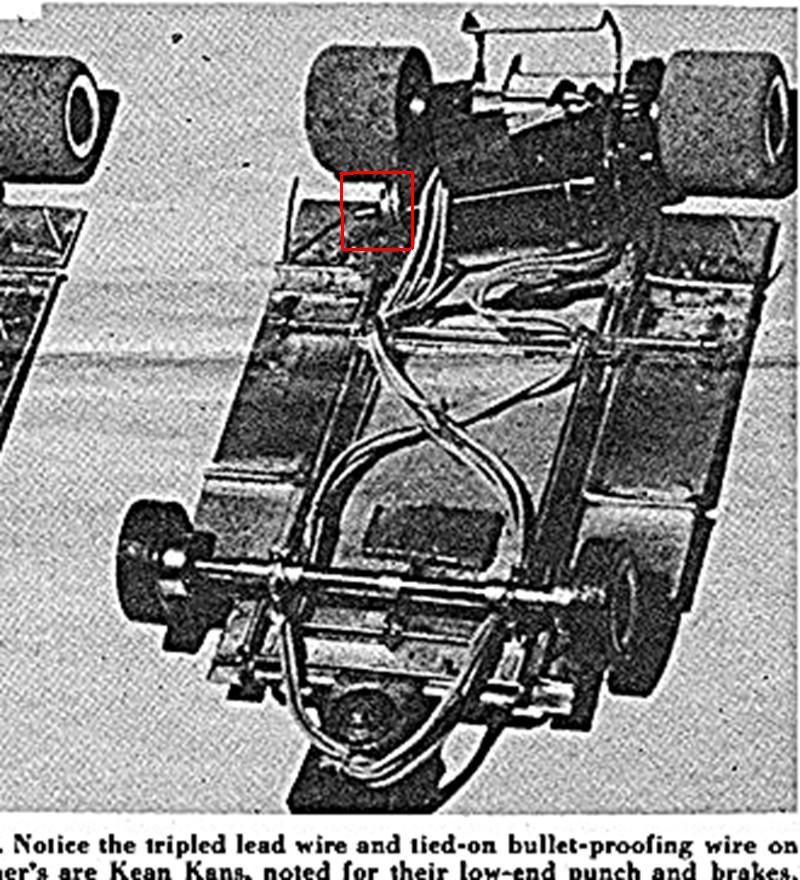 I consulted with our own good The Dokktor, PdL over this picture and the race reports tech sheet:
This particular one is a Champion 5001 (Mabuchi FT16BB with one side blank (no hole) can with the aluminum bearing housing……These 5001 came out in 1968 and were first nickel plated, and black in 1969. Not an easy one to find...
Kean used these for a while then switched to the regular black can.
Okie Dokie, I've got Champion chrome version so I needed to bang out the crap-O-la ball bearing and put in a good oilite, cut some mongo endbell vents and drill four endbell mounting screw holes. Here's the stock can on top and the modified one below: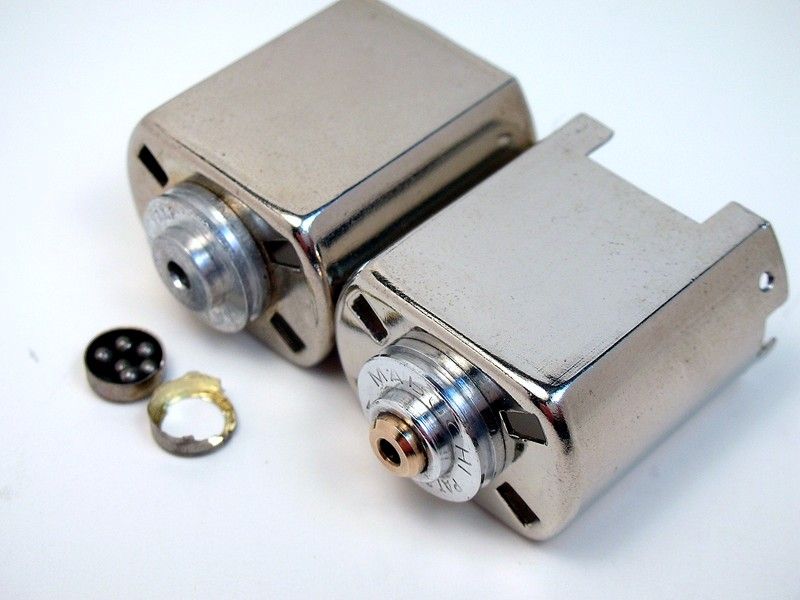 Note the two Mabuchi bearing cups (one mangled) and ball bearings. It was quite, ah, interesting removing them. I'd know what I'd do differently next time!
This flex shaft grinder is a wonderful tool. I used it to drill the endbell mounting holes. It's so much easier than trying to use a full size pistol drill: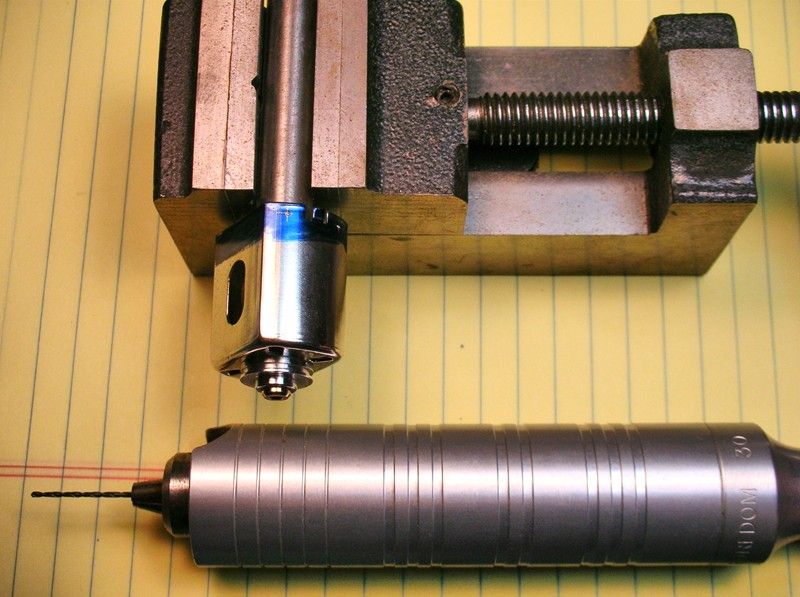 Oh, hey Duffy, lookie here. The old guy can still nail those scribe lines with a punch: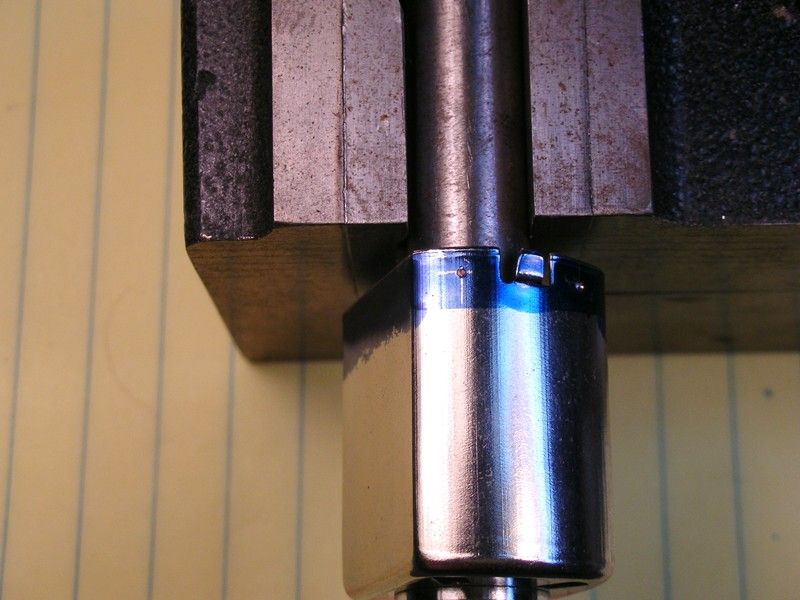 Sorry, apprentice machinist training moment……….Anyway, the Champion DZ magnets and 2-piece shims were too tall to fit in the can (Mabuchi sourced). I ground .015" off the height with a disk sander. Then I lathered up all these pieces plus the magnets…….
……with JB Weld epoxy and stuffed them into the can along with the can bearing, a .525" armature alignment tool and endbell . I made sure there wasn't any excess epoxy that would LOCK the magnets and shim into the can.
I ended up with nicely aligned bearings and this "magnet sub-assemble" that's a nice snug "slip fit" into the can: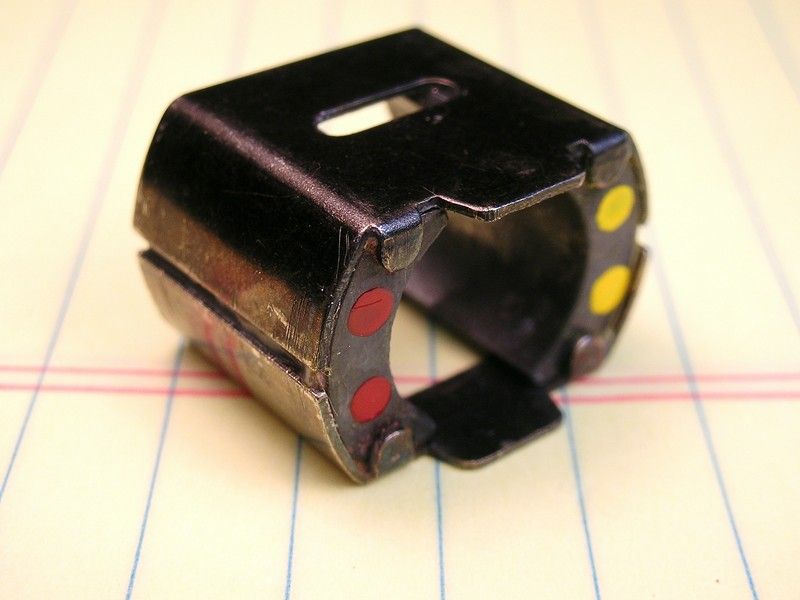 This step sure isn't vintage but I'm no master builder from back in the day. A man's got to know his limitations and this is one of my many: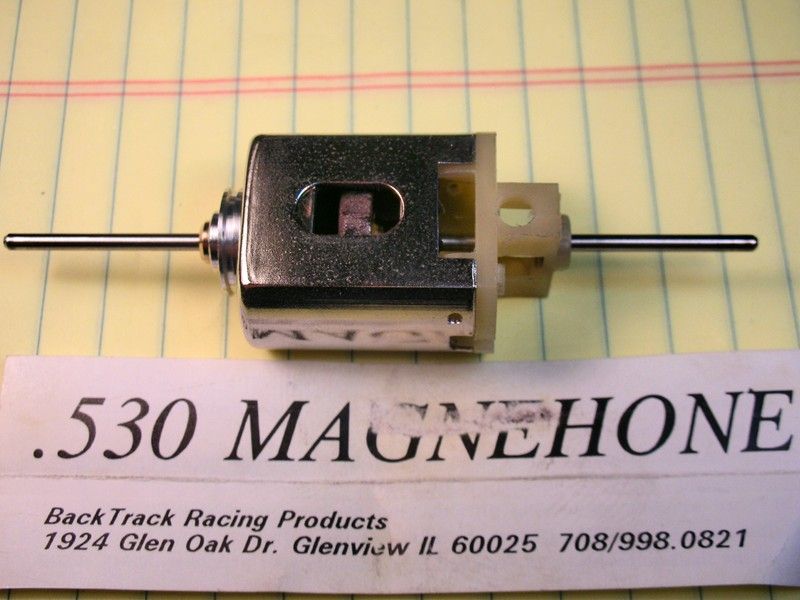 These magnet hones are slicker than snot. I've got a nice .530" magnet bore perfectly aligned with the armature. This makes me happy

. The "magnet sub-assemble" can be slipped out of the can and all the magnet dust cleaned up....neato!
Next up, I'll show cutting up that endbell……